"T
he first contact with you was significant... We knew that our stay in Lantouy would be a good place. To relax and enjoy vacation. We were very comfortable in your house and we were feeling like home. We really appreciated every little attentions such as the wine, fresh bread, the eggs, the maps and internet, etc. We will keep a very nice souvenir of you guys at the Moulin and the beautiful region of Perigord/Quercy. Thanks for everything. Nicole and the gang.
09/06/2009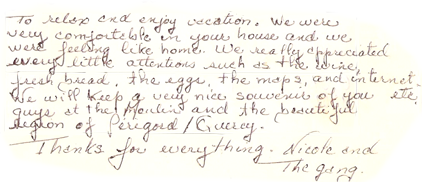 "W
e had a wonderful time exploring the area by car and on foot. It was made even nicer by knowing that we had our own little haven of peace & tranquility to return to, La Mouline. Bread in the morning much appreciated.
07/10/2008

"B
eautiful surroundings, lovely house. We had a wonderful time! -Thankx-
12/07/2008

"H
et was een heerlyke week op en fantastische plek.
21/07/2007

"F
lowers, birds, butterflies, the river, the mountains, the garden, all was as wonderful as last year. Thank you for the most beautiful flat!
09/06/2007